Hello there ladies
this little bird is finallly making her team!!!
So I am having a Creative Team Call!
If you are a person who loves to scrap using really fantastic kits please come and join my team!
If you love making LOs using stuff that you get for free, please come and be one of Lina's birdies!
Even if you have never tried to be part of a Creative team, please come and join me!
I am a new designer myself and we will learn all the things on the way!!!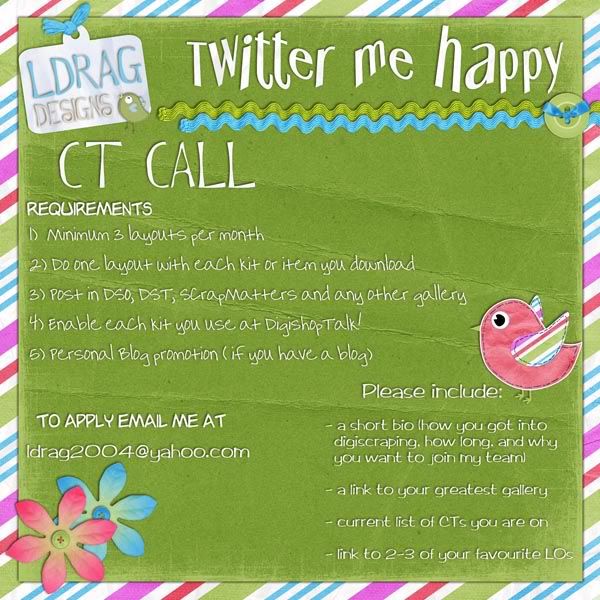 All you need to do in order to be part of my team is
1) 3 LOs minimum per month
2) 1 LO for every kit or item you download!
3) You must post in 4 galleries, DSO, DST, ScrapMatters and any other gallery you wish!
4) You must enable each kit you use at DigishopTAlk and
5) You must personally promote my work in your blog (if you have a blog of course)
To apply please email me at
ldrag2004@yahoo.com
Don't forget to write CT call in your subject line so that I know why you are emailing me! As I don't open any emails from people I don't know or the reason they are emailing me for!!!
In your application you must include:
1) a short biography ( how you got into digiscraping, how long and why you want to be a part of my team)
2) a link to your greatest gallery
3) current list of CTs you are in and
4) a link to 2-3 of your favourite LOs!
The call will stand untill June 10th!
After that I will announce my team and of course the store that I will be selling from June!!!!
And now time for your freebie!!
It is my first CU freebie and here it is!
It is two overlays that I have created a long time ago !!!
Make sure you grab them today cause this link will not last for long!!!
Happy Downloading
!
Lina