Hello ladies
Happy New Year to all of you!!!!
Hope you had a really festive day!!!
For us here in Greece it is quite festive especially
for the kids!!!
You see Santa for us comes today!! Well actually he is supposed
to come at New Year's Eve!!
According to our religion Santa is Saint Bill
who we celebrate his name aniversary
and
because according to our customs he brings presents
to all the poeple,
he is our Santa!!
So today I was woken by the noise of paper being torn!!
My DD woke up at 8 oclock to see if Santa had come and she
started unwarpping the presnts!!
So we had a really funny morning!!
And then I had to rush to prepare the
huge lunch feast we throw at New Year's Day!!
House was really crazy today!!
But we had lot's of fun!!!
For the first time my DH managed to
get the lucky coin we put in a special cake
we make here in Greece!!
To understand what I mean
you have to know a few of our traditions!!!
So I will try to explain a little for you!!!
This special cake is made every year
and at every home here in Greece!!
Inside the cake we hide a coin which is considered to the person who
wins it, his luck for the year to come!!!
This is a Byzantine tradition that we keep
until today!!!Of course the original story from the Byzantine years is
a little different but quite big so I will spare you
today from this!!
So my hubby won this this year and so he
is considered to have extra luck for the year to come!!!
Of course my 4year old DD can't understand and she wanted to win
it for herself so he had to play a little trick
with her!!
I was ready with another coin in my hand and when
her piece of the cake came out, I secretly
slipped the extra coin in for her to win!!
She was so happy!!! We all had so much fun with her!!!
Anyway I want to wish you all
that the New Year will bring to all of you out there
health above all,
happiness
and lots of love!!!!
And I wil finish my
today's entry with a photo of my
super cute kiddos wishing you
Happy New Year!!!!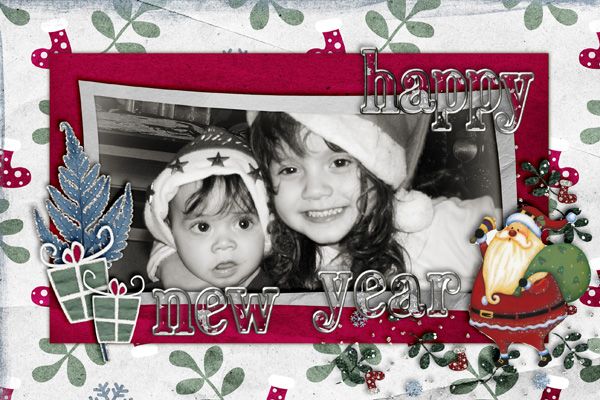 and a small SNEAK PEEK
for my tomorrow's new release!!!!
Here it is!!
Have patience until tomorrow
to have more of this really gorgeous new kit!!!
And don't forget that I will have
a small bonus gift for my Facebook fans!!!!
So until tomorrow
have fun
Hugs
Lina