This post has been the most difficult
I have ever done in my life!!!!
I have closed shops again but I never felt that
I will be losing my HOME!!!!
ScrapMatters has been my home
the only place I could really relate as I had so many friends there
and made so many friends there!!!
But life has taught me that nothing stays forever and talking
from experience (since I had to move with my daughter again to another
place because of my work)
now I have to move on to other things and to other store(s)!!!!!
And other places!!!!!!
But before I tell you all about them
I have a
STORE CLOSING SALE
until the 15th of November!
Everything (except collabs) is 50% OFF starting today
!!!!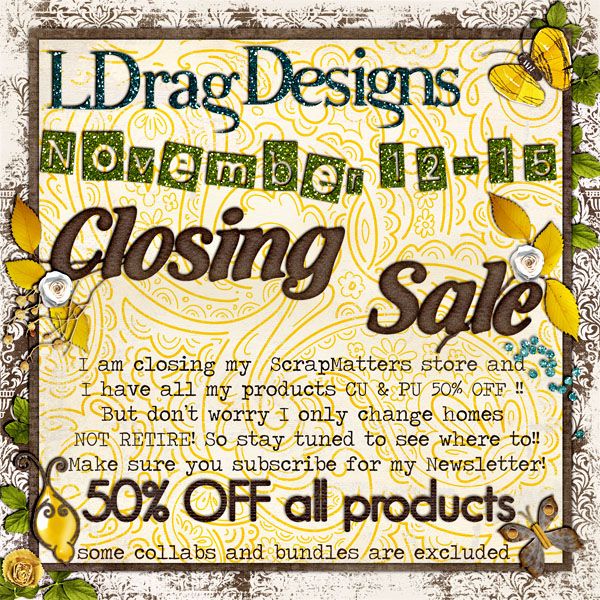 Discount will show in the cart
!!!
Not all of my products will follow me to where I will be going!!!
And I have lots of stuff for you planned!!!!
You will soon hear from me but if you want to stay tuned and
make sure you will not lose my trace and my designs you can all
subscribe for my NEWSLETTER
HERE
!!! You will get my news and
take advantage of the special discounts I have for my subscribers!!!!
See you all around !!!!!
Love you all!!!!
Stay tuned and Happy Shopping !
For more info you will have to wait until the 17th!!!!
Hugs
LINA