Hello there again
but I have to tell you about that. It is a
MUST!
You must attent the grand Re-Opening of ScrapMatters and here is the ad!!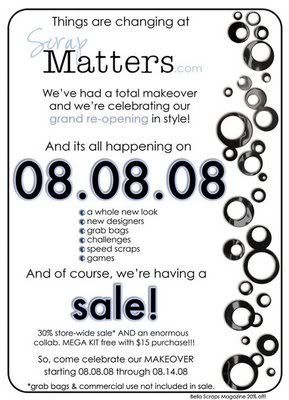 It is going to be as Andrea said , the owner of ScrapMatters, a week of Olympics!!! As many games, speed scraps, sales will take place and of course the coming of a
HUGE
collab kit that
all
the designers ,old and new ,in ScrapMatters contributed, and you must definitely have!!!!!
So, don't forget to be there on the 8th of August!!! You must
NOT
miss all that fun!!!!!!!!!!
So, I will be waiting you all there!!!